Becoming Visible
Exhibition of Gay, Lesbian, Bisexual and Transgender history in Scotland
Ian Passmore - Queer
A local authority shall not: .....
a) intentionally promote homosexuality or publish material with the intention of promoting homosexuality;
b) promote the teaching in any maintained school of the acceptability of homosexuality as a pretended family relationship.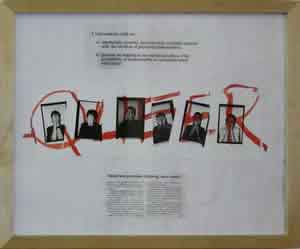 Hated law provokes bullying, says report.
Section 28 is preventing teachers from tackling the widespread 'sexual bullying' of boys, according to a report on intimidation at school.
The report suggests that such bullying is endemic in Britain's schools and that the word 'gay' is one of the most popular terms of abuse.
The report, by Neil Duncan from Wolverhampton University, examined pupils attending five comprehensive schools in the UK and concluded that the bullying usually begins with name-calling and progresses to violence.
The word 'gay' is often deployed by the bullies as a catch-all term of abuse for boys uninterested in sport, unassertive or academically successful.
Duncan also reported that teachers found themselves unable to deal with the problem, and that even the recently issued Department for Education guidelines on dealing with homophobia in the classroom are inadequate because of fears over Section 28.
"If teachers talk about homosexuality they are in fear that a councillor or parent will complain," he said. "It is difficult enough for children to tell a teacher they have been bullied. How much more difficult it is to talk about sexual bullying?"