Mapping the Past: Our Space and Time
Mapping the past involves marking out the space that we made for ourselves when we were denied visibility and place. It also involves tracing a different history from the official versions that exclude or ignore us. Our history has its own heroes, key events, progress, timeline and geography.
One of the most interesting exercises in creating a sense of our place in history is to map our space, by pinpointing key locations on a map of a city or country. Amongst those locations are the LGBT Centres, including the first explicitly named gay centre in the UK - the Glasgow Gay Centre opened in 1977. Cafés, bars, hotels, clubs, theatres, cinemas, libraries, bookshops and many kinds of informal meeting places also form part of our space.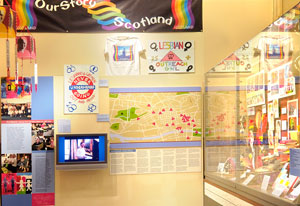 Opening up space for untold stories has been a key aim of OurStory Scotland from its inception. A high point in claiming space for our stories has been our exhibition OurSpace at the Kelvingrove Art Gallery and Museum in Glasgow in 2008. The Kelvingrove is the UK's largest civic museum and art gallery, and is Scotland's most visited attraction. The exhibition included a narrative map of Glasgow indicating significant spaces in our lives and connecting with stories in audio recordings:
>> OurSpace map for exhibition at Kelvingove 2008
OurStory Scotland devised a Glasgow LGBT History Walk to accompany the 2014 Commonwealth Games in Glasgow. The walk started and finished at Pride House, and included stories of the various locations encountered along the route:
>> Glasgow LGBT History Walk
Through his research at Glasgow University, Jeff Meek has developed a fascinating interactive map of Glasgow's queer places and spaces. More recently Jeff has extended this work to encompass other Scottish cities:
>> Scotland LGBT Historical Maps, 1885-1995
Places to meet have included cruising spots, such as Glasgow Green which figures most often in legal cases relating to homosexual acts. Jeff Meek has provided a fascinating account of the legal records and the queer secrets they reveal:
>> Legal Records Reveal Industrial Glasgow's Queer Secrets
Other informal meeting places include the discos and walks organised by the LGBT community.
Walks have been regularly organised by the Lilidots lesbian feminist walking group and the Glasgow Gay Ramblers.
Discos feature in the account of the Glasgow Gay Centre, SMG and SHRG and in this personal recollection of gay discos before 1982:
>> Before Bennets: The Discos before 1982
Our personal geography often relates to a particular town, a place that was formative in our developing identities. Bob Cant has provided a personal recollection of Dundee:
>> Remember Dundee!