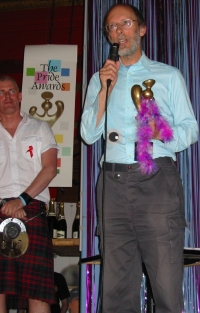 Accepting the Pride Award for Culture 2005
Pride Scotia Award for Culture 2005
At an awards ceremony at Pride Scotia in Edinburgh on Saturday 25 June, the Jackie Forster Award for Culture 2005 was presented jointly to OurStory Scotland and Edinburgh 's Remember When project. Here is the acceptance speech from OurStory Scotland:
" For OurStory Scotland and Remember When to receive the Pride Award for Culture is particularly thrilling for us, because our work is all about pride in culture - the culture of the LGBT community in Scotland, whose lives have been neglected, whose voices have gone unheard and whose stories have been suppressed. We are concerned to hear, record and present those stories, in the words of LGBT people themselves.
We have first to thank those people who have bravely told their stories, and the volunteers who have worked with us to collect, archive and present the stories. We would not have come this far if it wasn't for people having faith in us - the Glasgow LGBT Centre, 7:84 Theatre Company, the Mitchell in Glasgow where we are based, and the National Museums of Scotland in Edinburgh , who will house our materials to form a national archive of LGBT lives in Scotland . We also thank those who have offered financial support: Glasgow City Council, Awards for All Scotland and Communities Scotland. In addition, today we can announce a wonderful new grant of over £20,000 from the Scottish Arts Council Lottery Fund. This will help to finance storytelling events throughout Scotland , so that the voices of our community are heard, preserved and celebrated.
Thank you Pride Scotia for this magnificent award that supports and encourages pride in our culture."