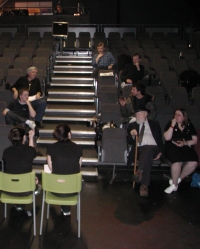 OurStory Scotland with the professional theatre crew of 7:84 Theatre Company
Origins of seXshunned
In January 2003, Jaime from OurStory Scotland approached Claire O'Hara, Outreach Director at 7:84 Theatre Company, to see if they would be interested in working with us on a theatre project. We agreed to cooperate on an Outreach Project, and Claire came to a meeting of OurStory Scotland to explain the approach of 7:84. Through cooperating on this project, OurStory Scotland has gained invaluable experience of working within the philosophy at the heart of an arts organisation like 7:84 Theatre Company: 'of bringing touring productions and participatory outreach work to areas of geographic and social isolation.'
We had our first workshop in February 2003. We developed stories through individual testimonies, collective reminiscence work and dramatic improvisation. The stories at first had the focus of mental health and mental illness, and included factual reference to the experience of our community, including being sectioned (hence 'seXshunned') under the mental health act. Later the project was successful in attracting outreach funding, including Scottish Arts Council support that financed a dramaturge (Derek Jackman), so we were able to work with Claire, Alana, Derek and a truly professional theatre crew to develop our production over more than 18 months. With the longer time frame, we broadened the focus but retained the title.
A framework for the piece was given by Monte's poem 'The Well', and Monte (aged 81 at the time) read out the first and last verses of the poem to open and close the production. A time frame was provided by the role of a newscaster reading key news events (including those of relevance to the LGBT community) for each decade from the 1960s till the present. Group scenes were interspersed with monologues, and stories from the real experience of the participants were interlaced with fiction that varied the pace and heightened the drama with humour and tragedy.
The performances on 3rd and 4th November 2004 at The Arches in Glasgow were a great success, amongst the best attended in all of the Glasgay festival, with the second night selling out. The response was tremendous and many of the audience, from within and outwith the LGBT community, stayed on to talk about the production afterwards.